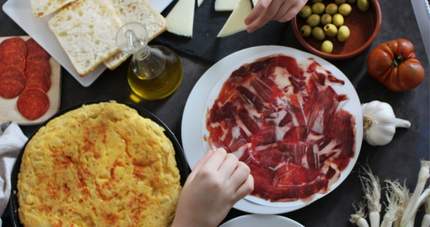 Spanish Ham
Finden Sie Ihren Schinken-Favoriten!
Spanish Ham
What is Spanish ham?
From Jabugo acorn-fed ham to Serrano ham from Trevélez, there are few delicacies that better represent Spanish gastronomy than ham. Available in a wide variety of qualities and production regions, the flavour of Spanish ham varies depending on the breed of pig, the curing time, the production area, the pig's diet and of course the craftsmanship of the master ham makers.
The ham is usually served in thin slices to make it easier to taste, but it is also possible to buy it whole, boneless or sliced. Spanish ham is delicious simply served with white bread and is perfect for tapas along with olives, cheese and other spanish sausages such as chorizo or fuet.
Spanish ham, whether Serrano, Iberian or pata negra, is made by curing the pig's hind legs. After slaughter, they are trimmed and cleaned, then stacked and covered with salt. They are left in this way for about two weeks to allow most of the moisture to escape. After this, the salt is cleaned off and the hams are hung to be cured.
The Spanish tradition of ham making dates back more than 2,000 years, when the Roman Empire controlled the Iberian Peninsula. Even back then, Spanish ham was a delicacy for the Romans, even appearing in some of Pliny the Elder's writings.
Buy Spanish ham
Buy Spanish ham online today is very easy, in Colono you will find Spanish ham in various formats, from renowned producers, who have been producing Serrano ham and Iberian ham for decades, recognised in Spain and in the most demanding markets. These are the formats in which you can buy Spanish ham in our online shop:
Whole hams and shoulders
Boneless hams and shoulders
Hand-cut and vacuum-packed hams and shoulders
Varieties of Spanish ham
In Spain there are two main varieties of ham: Serrano ham and Iberian ham. Serrano ham is produced from white pigs, duroc pigs or a mixture of both. Iberian ham is produced from Iberian pigs. Depending on the purity of the breed of the Iberian pigs, they will be classified in a higher or lower category, being the 100% Iberian pig the one used to produce the famous pata negra ham.