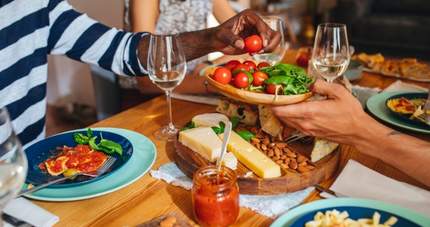 Manchego Cheese
Käse-Genuss von cremig bis kräftig
What is Manchego cheese?
Manchego is a pale yellow sheep's cheese with a firm, supple texture, a pleasant grassy aroma and a flavour that could be described as umami, fruity, nutty, spicy and sweet.
Manchego cheese is made in the four provinces of the Castilla La Mancha region: Albacete, Ciudad Real, Cuenca and Toledo. It is available in different degrees of maturity, from fresh to old, although the fresh type is rarely seen outside Spain, as it has a very short shelf life. Manchego cheese can be made from raw or pasteurised sheep's milk. The raw version, known as artesano, retains more of the earthy, herbaceous and spicy flavour of sheep's milk.
How is Manchego cheese produced?
Manchego cheese is made by curdling sheep's milk with calf's rennet and gently cutting the curd and pressing it by hand into cylindrical moulds. The moulds themselves are engraved with a pattern that gives the Manchego rind its unique texture, replicating the marks formed by the woven leaves of the grass baskets in which Manchego cheeses were traditionally made.
The moulds are pressed and the resulting wheels of cheese are placed in brine, after which they are transferred to natural maturing caves where they spend between one month and two years. Brushing the cheese with olive oil helps to form the natural rind and to colour the outside of the cheese.
Types of Manchego cheese
Manchego cheese is divided into categories that are defined by the length of curing time. Fresh cheese, the youngest, is cured for no more than two weeks. Semi-cured is matured for between three weeks and three months, and has a firmer, but still supple texture. Cured is aged for a minimum of six months and has a mild nutty flavour and a slightly crumbly texture. Old Manchego is aged for at least one year and has a crumbly texture and an intense, spicy flavour.
Buy manchego cheese
Buying artisan Manchego cheese nowadays is very easy. At Colono you can find Manchego cheese in different degrees of maturity: semi-cured, cured and aged. And you can also find cured Manchego cheese with different ingredients that add different aromas and nuances to the cheese, such as paprika, rosemary, red wine or ash.
Tapas and Manchego cheese
One of the most traditional and common uses of Manchego cheese is in Spanish tapas, where it is usually served with cold meats such as Serrano ham, chorizo or pork loin, together with Manzanilla olives, bread and picos or regañas.