Pintxo of Bonito del Norte (white tuna) on aubergines and miso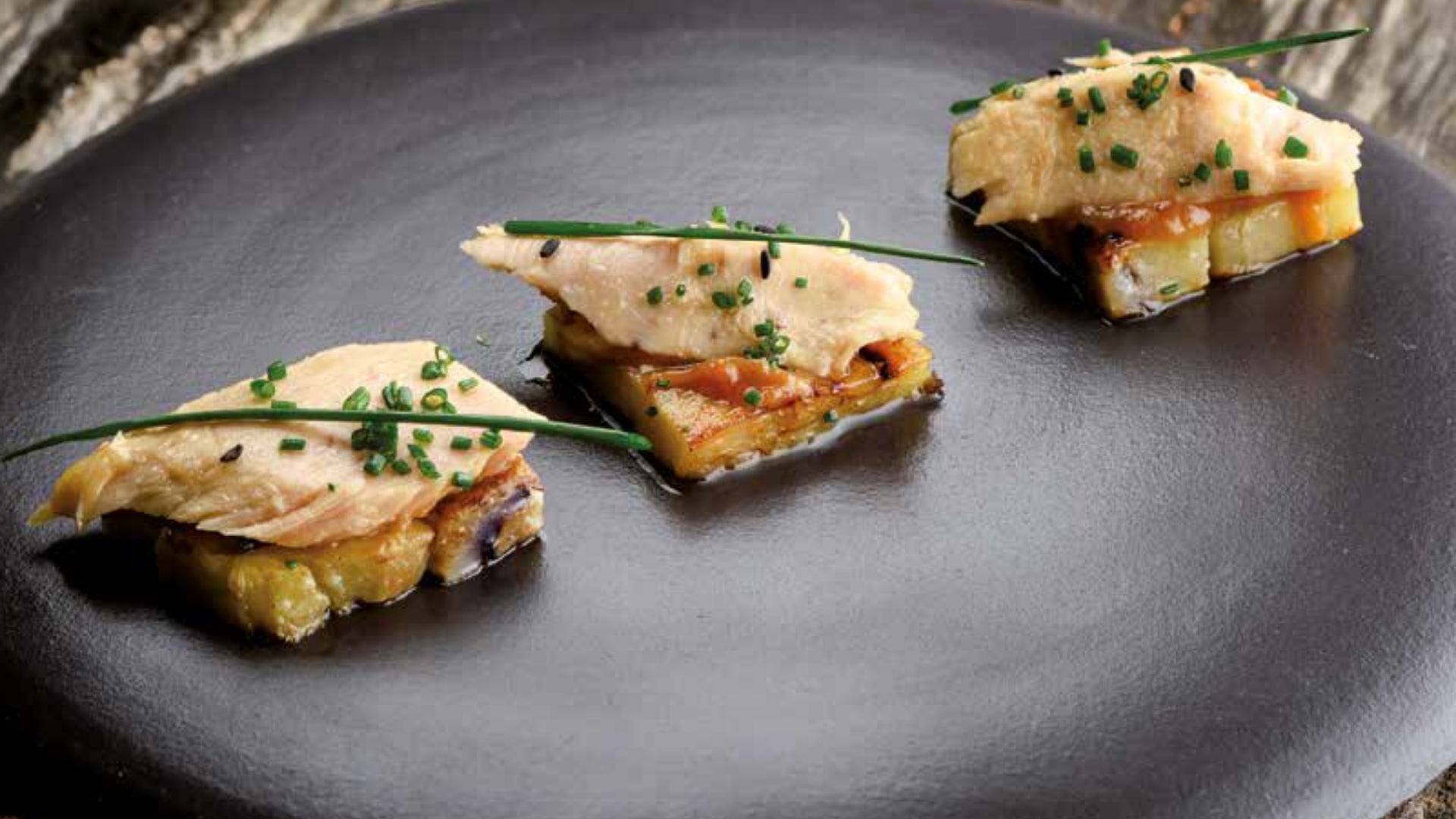 This recipe is an original Pintxo, which combines typical products of Spanish gastronomy with Japanese preparations. The Bonito del Norte is a very versatile product. A Pintxo is a small tapa typically find in bars from the Basque Country (usually eaten in a bite).
Our reference producer Conservas Nardín has provided us with the recipe that we are happy to share.
INGREDIENTS

(for 4 guests)
150g aubergine.
1 spoon of sesame oil.
2 spoon of red miso.
1/2 spoon of Mirin.
1/2 spoon of Sake.
1 small spoon of sesame.
1 small spoon of chopped chives.
PINTXO OF BONITO DEL NORTE ON AUBERGINES AND MISO STEP BY STEP
Cut the aubergine in 3cm x 3cm blocks.
Heat the pan over medium heat, spread the aubergine in sesame oil and cook in the pan. Cook it 3 minutes on each side, remove it, and put it on a tray.
Mix mirin, miso and sake in a saucepan and heat on low heat. Let it reduce and then put the aubergine on the sauce.
Separate the Bonito del Norte in 3cm wide layers. Put the Bonito on the Aubergine. Add some chopped chives plus sesame, and we are ready to serve.
If you have come this far, it is because you are interested in Spanish cuisine or its culture. If you would like to learn other recipes, you can Subscribe to our Newsletter, through which we keep you informed every week. In our online shop you will find products such as Jamón Serrano, Jamón Pata Negra, Manchego cheese, products for the preparation of tapas and paellas, Olive Oil or Wines from several regions of the Iberian Peninsula.